SOUTHLAND Transportation Ltd. $25 Corporate Voucher Program 
SOUTHLAND offers vouchers to employees based on hours worked with the company. Hours are calculated from July 1 through to June 30. This benefit is intended to help with the cost of work wear. SOUTHLAND will not be held responsible for vouchers that are misplaced, lost, or stolen. Vouchers that are lost cannot be replaced. Vouchers are not redeemable for cash. Vouchers are non-transferrable.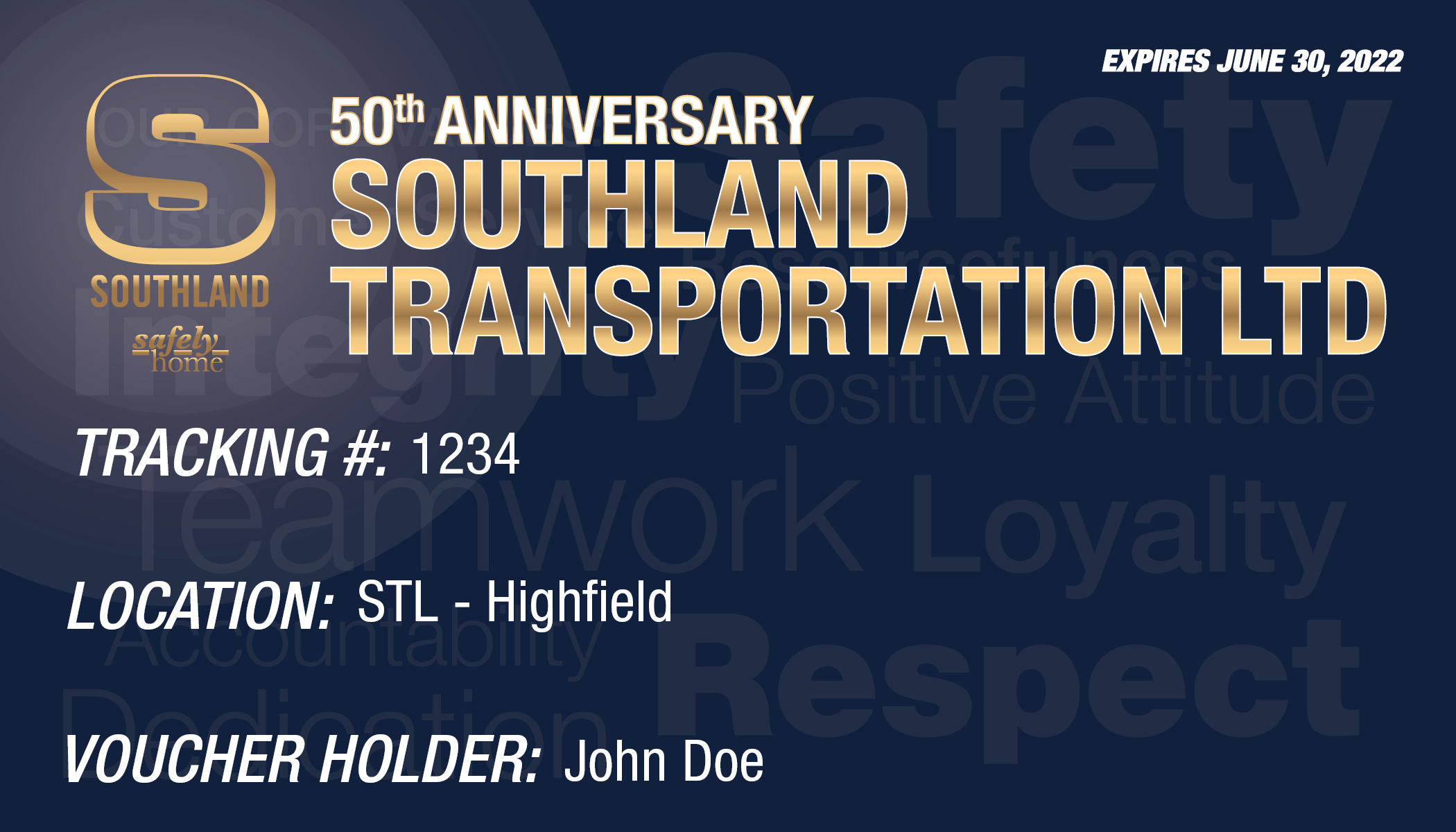 To qualify, employees must be active or on an approved leave. Vouchers are distributed in the fall based on the following levels of hours worked:
Less than 250 hours – no vouchers
250 – 2999 hours – $25 worth of vouchers
3000 – 5999 hours – $50 worth of vouchers
6000 – 8999 hours – $75 worth of vouchers
9000 – 11999 hours – $100 worth of vouchers
12000 – 14999 hours – $125 worth of vouchers
15000 or more hours – $150 worth of vouchers
Program Rules & Details:
Vouchers are the property of SOUTHLAND Transportation Ltd. and is valid only for the purchase of SOUTHLAND corporate wear or at the selected stores listed on the back of this voucher. It is not redeemable for cash in whole or in part. SOUTHLAND is not responsible for replacing any vouchers that are lost, misplaced, or stolen. Non-transferable. SOUTHLAND vouchers are redeemable ONLY at the following businesses during the school year of September 2021 – June 2022. The entire amount must be applied against the purchase. No change will be given if the purchase is less than the voucher dollar amount.
MARK'S WORK WEARHOUSE – All Locations
Cochrane Health & Fitness Centre – Upper Level 118 1 Ave, Cochrane
Minute Muffler – 250 3619 61 Ave SE, Calgary
Lammle's Western Wear & Tack – All Locations
Village Square Leisure Centre – 2623 56 St NE, Calgary
Southland Leisure Centre – 2000 Southland Dr. SW, Calgary
Home Hardware Building Centre – 121 Fisher Street, Okotoks