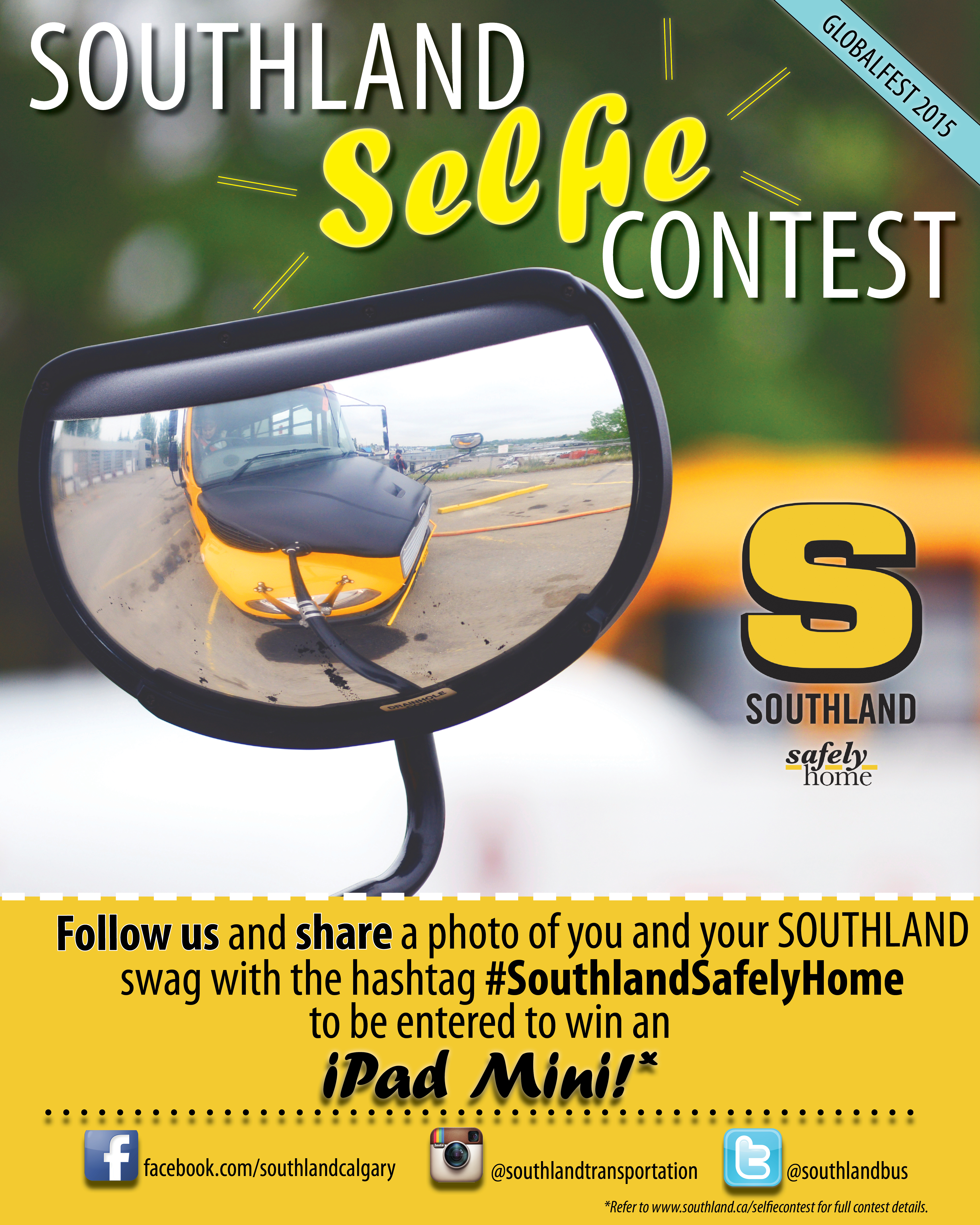 Official Southland Selfie Contest – Globalfest 2015 Rules
Eligibility
The Southland Selfie Contest is open to all legal Canadian Residents aged 12 and over, at the time of entry.
Limit one entry per person per social media platform (Facebook, Twitter, and/or Instagram, for a maximum of 3 entries per person).
By submitting an entry, all entrants warrant and represent that they have full right and title to the entries submitted and that such entries do not violate any prior copyright interests of any person.
All entries will be reviewed by Southland Transportation Ltd. to ensure that the content of the entry is appropriate in nature and to ensure entries abide by the content restrictions contained in these official rules. Southland may, in their sole discretion, refuse any entry at any time.  No entries will be returned to the entrant. The decisions of Southland in relation to this competition will be final and binding on all entrants.
Contest entrants under the age of 18 must have permission from a parent or guardian to enter the contest. If the winner is under the age of 18, the winner must have a parent or guardian present with him/her to claim the prize.
Timeline
The Entry Period begins on Thursday, August 20, 2015 6:00 p.m. MST. The deadline for entries is Sunday, August 30, 2015 11:59 p.m. MST.
The winner of the draw will be announced on September 1, 2015 and notified via Facebook, Twitter, or Instagram.
Entry Requirements
Entrants must like Southland's Facebook page and/or follow Southland on Twitter and/or Instagram. Entries must include a photo taken with the promotional product (swag) obtained from the Southland booth at Globalfest 2015 and include the hashtag #SouthlandSafelyHome.
Submitted photos must not contain nudity, profanity or vulgar behavior, graphic violence, or any inappropriate materials as determined by Southland, in their sole discretion. Photos must also not contain dangerous stunts, weapons, drug use, material that is hateful, torturous or slander, material that promotes prejudice, hatred or harm against any group or individual or promotes discrimination or exploitation based on race, sex, religion, disability, age or any other basis protected by law. Photos must not contain material that is likely to cause offence to any person, or to injure the name, reputation or standing of any person in any way, directly or indirectly.
Property of the Entries
Upon submission, all entries become the exclusive property of Southland, and may be used in any and all future promotional contexts as deemed appropriate. Southland shall have the unrestricted right to use, edit, publish, broadcast, or stream any or all of the photo entries, as well as the name, picture, statements, biographical information and likeness of any and all participants without further approval or compensation.
Prizing
The name drawn from the collection of entrants following the closing of the contest will be deemed the winner of a new 16GB Apple iPad Mini 2. The Apple iPad Mini 2 is non-refundable, cannot be exchanged, and is not redeemable for cash. Southland is not responsible for any costs associated with claiming any prize.
Photo Identification must be presented by the winner to claim the prize. If the winner is under 18, a parent or guardian must be present with the winner to claim the prize. If the winner is under 18 and does not have photo ID, the winner must present other identification such as a birth certificate or health card and the parent or guardian must also present photo identification.
The winner must be able to claim the prize in person. Prize(s) will not be mailed to a winner or held for an extended period of time.
Acknowledgment and Warranty
By entering the Southland Selfie Contest, entrants are hereby deemed to acknowledge that they are solely responsible for their own entries and the consequences of submitting them to the chosen social media platform(s), and warrant that their entries are their original work and do not impinge on any other person's rights.
This Contest is subject to all Federal, Provincial, and local laws.