SOUTHLAND CAREER FAIR!
WHEN: JULY 30, 2015 from 9:00AM – 2:00PM 
WHERE: 4105 13A Street SE, Calgary AB T2G 3J6
We are seeking community minded School Bus Drivers for the upcoming school year. Enjoy the convenience of training in the summer during a few weeks that work best for you and start your new job in late August!
Why You Should Choose SOUTHLAND
SOUTHLAND offers an opportunity that is always exciting and allows for routine. We offer free personalized training, competitive wages, bonuses, and flexibility within your personal life.
Part-time hours, 4-6 hours a day. Perfect for a stay-at-home parent, entrepreneur, or retiree!
Free Class 2 training, with a hiring bonus
Competitive wages – up to $100/day, with the opportunity to earn more by taking on additional routes
Bring up to two preschool-aged children to work with you
Referral and Safety bonuses
Summers, weekends, and holidays off
Opportunity for advancement
Employee recognition programs
Recognition as a community hero who helps to ensure everyone gets Safely Home
Job Description
SOUTHLAND Transportation is seeking dedicated School Bus Drivers to join our team! Drivers are responsible for safely transporting students on a daily basis and must be committed to safety and customer service.
As a School Bus Driver you will work a split shift, driving approximately 2 hours in the morning and 2 hours in the afternoon, with routes available in-between for anyone looking to pick up extra hours. You will be assigned a route that falls between the hours of 6:30am-9:30am in the morning and between 2:00pm-6:00pm in the evening. Drivers work during the school year and are given time off in July and August. However, work is available during this time for drivers wishing to work through the summer.
Requirements
Valid Class 5 (non-GDL) driver's license (FREE Class 2 training provided)
10 year drivers abstract (10 year commercial drivers abstract for licenses above a class 5)
Clear criminal record
Between the age of 21-71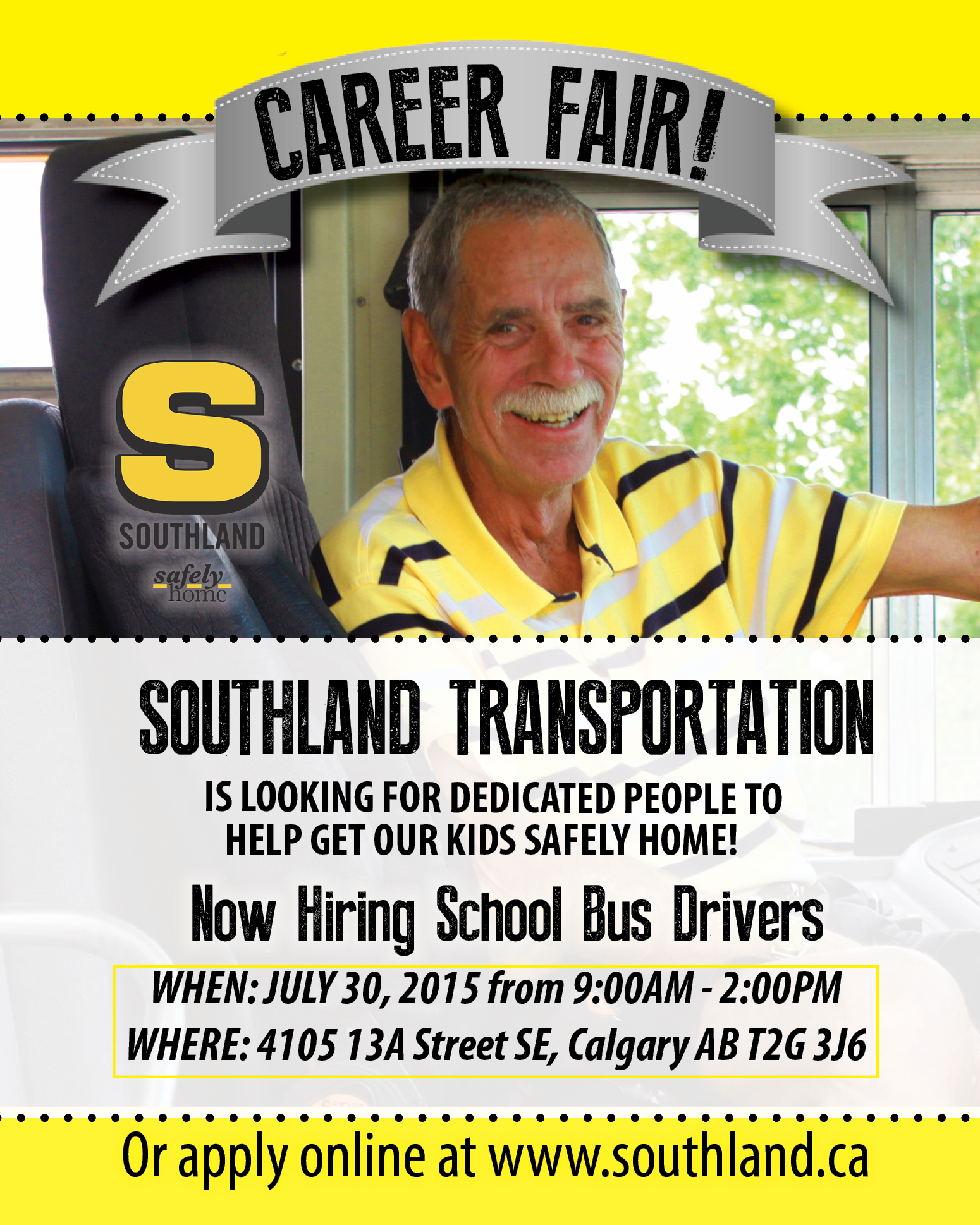 Cant make it to the Career Fair? You can apply online!