A year ago, Jonathan Conte felt his life was in a rut. He had been working at a food delivery job for almost a decade, but the pay and job satisfaction had steadily decreased. He was looking for a fresh start – both professionally and personally. "I decided it was time to hang up my delivery job for good and try doing something more professional than delivering food parcels," he said.
Jonathan has always had a passion for driving vehicles and says he's wanted to drive a bus since he was three years old. However, he felt he needed to work on some independent living goals, such as time management and organization, before trying his hand at becoming a full-time school bus driver.
Jonathan joined the Sinneave Foundation's Launch + Skills program, which helps Autistic adults thrive and develop the daily habits needed to live and work independently. Jonathan also got assistance from The Society for Autism Support and Services (formerly The Society for the Treatment of Autism). The staff there helped sharpen his resume and interview skills. With the encouragement and support of those organizations, Jonathan applied to SOUTHLAND Transportation, got the job, and began an exciting new chapter working in the transportation industry.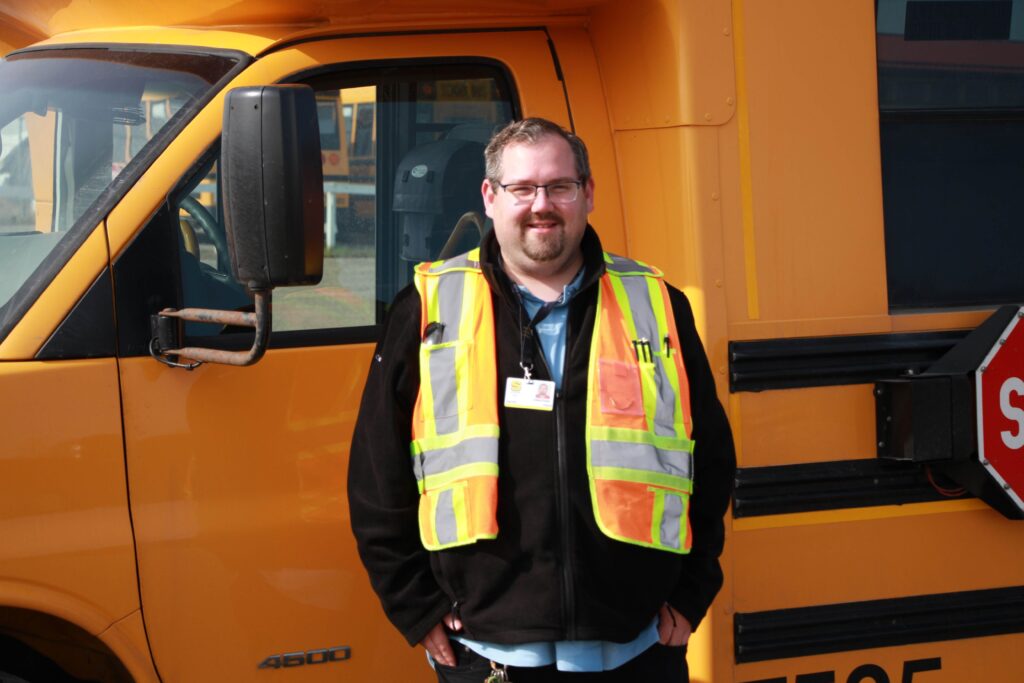 Jonathan started driving a school bus in October, and as his first school year on the job wraps up next month, he says the experience has been extremely positive. He'd like to give a shout-out to Aubrey, Carlos, and Eddie at SOUTHLAND for making his transition to driving a school bus a smooth one.
"(Those) guys were extremely patient with me and helped me out so much with the materials and skills driving a bus! Some driving rules and laws have changed since I first started driving, so I had to unlearn some of the things I was taught as a Class 5 driver years ago."
Jonathan has been thriving in his new career, and feels the job is not only professionally satisfying, but highly beneficial to his mental health.
"It's been life-changing. I used to be a lot more depressed, I used to sleep irregular hours. But, having this job, having to be up at a regular time every day, seeing the same people every day, and being in a regular routine with kids and co-workers that are actually enjoyable to be around – it's been a wonderful experience for me."
After starting his career at SOUTHLAND operating a full-size school bus, Jonathan is now driving a microbus that he can park at home, which is a huge plus. His vehicle makes four stops and has a maximum of eight passengers. "I jumped on that opportunity! It's been wonderful," he added. "The kids at STS have also been really good – I have no complaints!"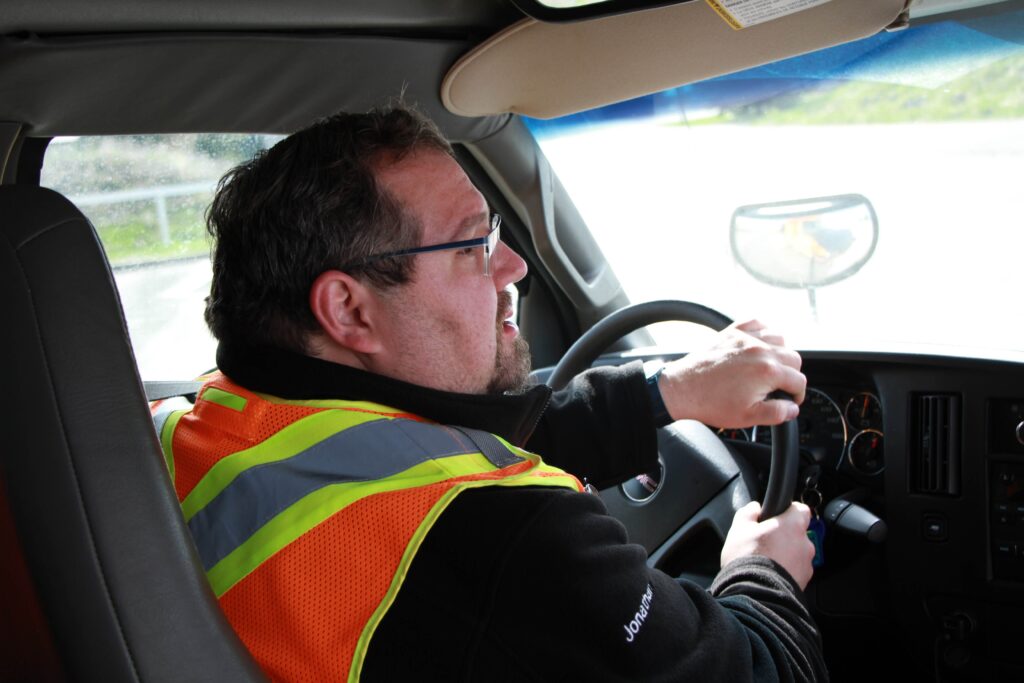 Jonathan's skills coach at the Sinneave Foundation says he's been very impressed with Jonathan's initiative and drive for self-improvement. Cedric Nicholson says Jonathan's journey should inspire others on the spectrum to get out into the workforce.
"Jonathan's story is an amazing story – just because there are so many individuals out there who don't believe that they have the ability to do it, and when they find out that someone else can do it, it really inspires them."
Jonathan also thinks his experience applying and successfully landing a job at SOUTHLAND could encourage others on the spectrum to give a career in transportation a shot.
"I want people to know that just because we're differently abled, that doesn't mean we can't do things. It just means we need support or we need to go about doing things a different way than everyone else. The Sinneave Foundation is there to help you with your life skills – to get you to the point where you're ready to get a job. And there are other agencies out there like the Society for Autism Support and Services to help you land the job and keep the job."
With the school year winding down in June, Jonathan is already looking ahead to the summer and hopes to secure more charter work. He is planning to upgrade his bus driver training to be able to operate motorcoaches and is also hoping to become a Driver Trainer. Since getting behind the wheel of a school bus in October, Jonathan feels he's found a home at SOUTHLAND and a place to advance his new career in people transportation.
"The comradery between drivers and staff is also something I have never experienced before at any of my other jobs," he says. "We have fun, tell wonderful jokes, help each other out, and feel like an extended family. There are other drivers I've met who are also Autistic, so this really is a great place to work!"